All These Great Features –
One Low Price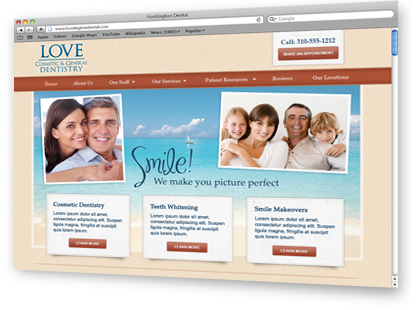 World-Class Dental Website
Choose from over 35 modern dental website design themes that instantly brand your practice as up-to-date, credible and completely in-touch with dental patients today. Each WebDirector® theme can be easily customized to meet your dental practice's specific needs.
Unlimited Live
Customer Support

WebDirector's US-based technical services team is the best in the business. Friendly professionals are ready to answer all of your questions. Can't figure out how to do something? Let our techs do it for you. Best of all, there's never a charge to call.


Integrated Web Reviews

Only WebDirector dental practice websites offer integrated web reviews. Visitors can see your online reviews from Yelp, Google, PatientActivator® and Demandforce without having to leave your website. This WebDirector exclusive — including setup — is available at no additional cost.


SEO Optimized

Every page of your website is SEO optimized by the same team who keep 1800Dentist.com at the top of the search rankings. Our site architecture is structured to give you maximum SEO power. User-friendly design lets you add or customize keywords anytime you like.


Image & Content Library

Your new dental website comes ready to go. Use the default content — written by our US-based SEO expert — or customize it yourself. Pick and choose from dozens of photos in our library, or load your own. Making changes is easy as updating your Facebook status.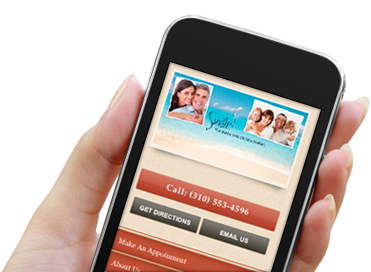 Dedicated Mobile Site
Did you know full-sized websites scaled down for mobile can actually drive patients away? That's why WebDirector provides you with a matching, state-of-the-art mobile site. Everything we've learned as dentistry's #1 mobile marketer goes into making our mobile sites the best anywhere.
Appointment Request Forms

Every WebDirector dental website features an appointment request form to help you generate maximum production. Designed and tested by experts, our "Request an Appointment" forms are patient- and front desk-friendly.

Patient Education & Videos

Adding videos to your site is easy with WebDirector. We can upload your existing promotional, patient testimonial and educational videos. And, we can connect you with a video company to provide you with new videos for your dental website.

Complete Compatibility

WebDirector is totally compatible with the leading dental marketing products. It easily integrates with everything from Dentrix and blogging platforms like Wordpress and Blogger to major patient review sites, including Yelp, Google, PatientActivator, and Demandforce.

Point-and-Click Editing

Update your dental website anytime you like using WebDirector's easy point-and-click editing feature. Gone are the days of calling in a webmaster or paying fees for every little change your site. If you can edit Facebook or a word doc, you can edit your WebDirector site.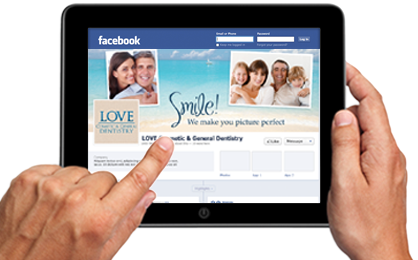 Branded Social Media Pages
Take your dental practice's social media presence to the next level with custom, matching skins for your Facebook, Yelp and Google+ pages. WebDirector makes it easy to provide your dental practice with a consistent, branded look across the virtual world.
Trustworthy Web Stats

WebDirector gives you true state-of-the-art web statistics and reporting. See all the key performance indicators for your website, including visitor counts and online appointment request totals. Everything is shown in real time. We can even install Google Analytics for you if you'd like.

Worry-Free Hosting

You can count on your website being up and running smoothly 24-hours a day, 365 days a year because we host it on the Amazon Cloud. With WebDirector, you get the most reliable website hosting available anywhere at no extra charge.

Email Integration

WebDirector works seamlessly with your practice's Gmail email accounts. This ensures that appointment requests and patient emails can reach the right person on your team right away.

Automatic Upgrades

WebDirector keeps you ahead of the curve by continually upgrading your web and mobile sites to the industry's latest trends and technical standards. We do it automatically and without hidden fees. You can trust us as your partner in all of your practice's Web, mobile and social efforts.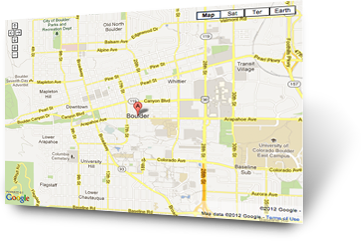 Google Maps & Directions
WebDirector web and mobile sites feature Google Maps integration. This powerful tool makes it easy for patients to quickly locate to your office from home or on the road. Patients love the easy one-click directions button on every WebDirector mobile site.